Fusion Cuisine – Hybrid Dishes For Special Events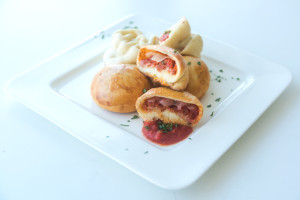 Fusion cuisine is cuisine that combines elements of different culinary traditions. This type of cuisines is not particularly categorized according to any one particular cuisine style but plays an important part in creative and contemporary food innovations.  It's sometimes the best way to interpret an old classic into something fresh and modern.  Or to combine the best of 2 worlds into one fabulous and interesting dish.  Today there are entire restaurants & food trucks built around this concept.  We've found several fun and innovative food blogs that also highlight the art of Foodie Fusion, here are some of the tastiest we've seen.   Try your own culinary chemistry experiment of these food mash-ups!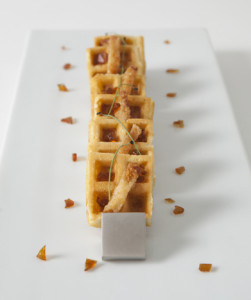 A twist on the classic chicken and waffles! Infused with chicken, garnished with crispy chicken skin, chives, and syrup drizzle, by Canard Inc. in New York. Taco shells made from rice flour and sushi rice, filled with tuna and salmon, and sprinkled with sesame seeds, by Encore Catering in Toronto.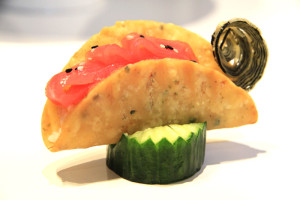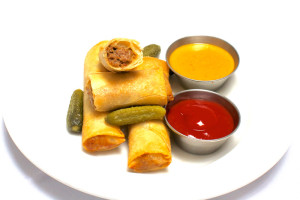 Cheeseburger spring rolls filled with ground beef, onion, three cheeses (American, cheddar, and Swiss), and béchamel sauce, by Delicatessen in New York. And for Dessert!  A chocolate brownie-cookie hybrid filled with vanilla panna cotta, by Pinch Food Design in New York.