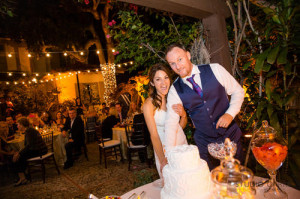 Early Autumn Wedding, Dining Under the Stars
We recently catered this gorgeous early autumn wedding at a private home La Jolla home.  The bride wanted an intimate alfresco dining experience under the stars for her family & closest friends. And the Menu reflected her Italian heritage.
For starters the guests we're served a selection of tray passed hors d'oeuvres, such as a Peach Caprese Skewer peach with fresh mozzarella & basil leaf with a balsamic glaze. Cabernet braised short rib on creamy mashed potato served in a spoon. Tuscan Flatbread Pizza with rosemary roasted potatoes, carmelized red onion and gorgonzola. And lastly Gamberoni Spiedini, grilled shrimp skewers marinated in orange and fennel.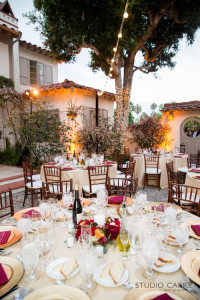 For the romantic sit down dinner underneath the stars, the first course served was Gnocchi sautéed in olive oil, butter, peas & Proscuitto served with a Marscapone cream sauce.  The salad course was a refreshing and bright, watercress and melon salad, with seedless ruby watermelon and crumbled feta on upland watercress with a balsamic reduction glaze.

And the choices for the main course were equally as impressive. Your choice of  grilled filet of beef with a green peppercorn sauce. Pan seared local sea bass with lemon buerre blanc & crispy capers.  Oven roasted polenta cake with roasted tomato and spinach ricotta, all served with locally grown grilled seasonal vegetables and aritsanal Ciabatta bread.

[/vc_column] [/vc_row]