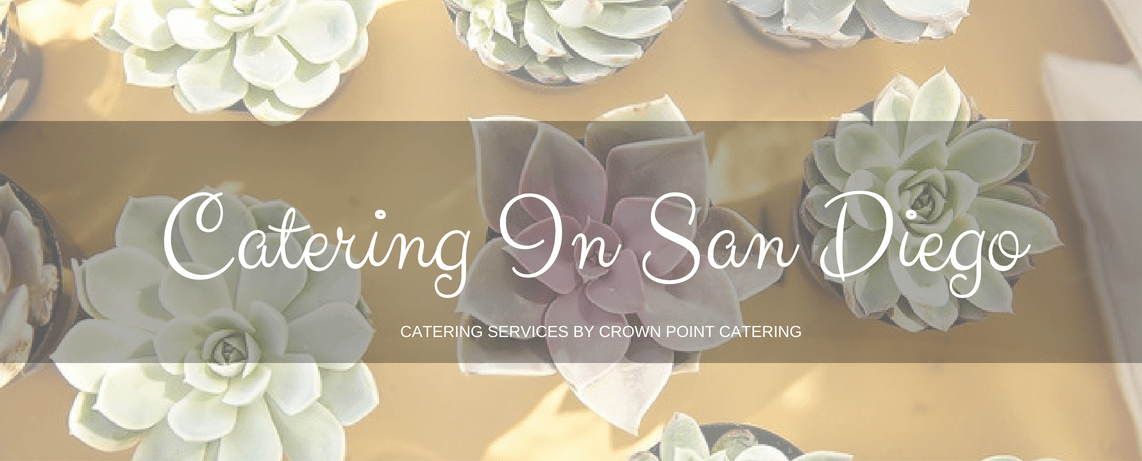 Gourmet Catering In San Diego
Looking for Catering in San Diego?
San Diego catering company Crown Point Catering has you covered!
Our event staff go above and beyond to ensure that your San Diego event is magical and meaningful. We offer an elegant experience that is truly unmatched! If you're looking for catering in San Diego, CA – then Crown Point Catering is the perfect service for you!
_____________________
San Diego Catering
At Crown Point Catering, we want nothing more than to make your day memorable with amazing gourmet food, stunning San Diego venues and outstanding service. As a San Diego Catering Company, we pride ourselves on catering a wide variety of events such as Weddings, Private Events, Social Gatherings, Corporate Events and more! Crown Point Catering cannot wait to cater your next event in San Diego!
Full Event Catering For Corporate, Private and Social Events
We value the importance of perfecting every detail on your special day. Our San Diego Catering team customizes an experience that fits you and your guests like a glove. With a variety of San Diego venues that range from intimate settings to grandeur backdrops –  we're confident in our ability to offer you an atmosphere to host your next corporate party or the wedding of your dreams!
If we could sum up our catering in one word it would be: exquisite. As a local San Diego catering company, we love to embrace the beauty of our city and our events elegantly represent just how astounding San Diego is.
With over 20 years in the catering industry, we have no doubt that your event is in the best hands that San Diego catering can offer! We treat our clients just like family and are honored to be apart of each and every event. Want to see an inside look at our events? Click here to see photos from our San Diego Catering Events!
Interested in our reviews? Click here to see our Crown Point Catering Reviews on Yelp!
Why should you hire Crown Point Catering for your next catering event in San Diego?
The answer is simple really. Because no other San Diego Catering Company will care the way we do. Catering is not just a job to our staff, it is their true passion. We love nothing know than to see a smile on your face and to know that we played in part in that. If you're ready for a professional, detail-oriented staff to personalize your next catering event in San Diego, then we'd love to hear from you.
To get more information about our San Diego venues and menu options, call or email us at 619-223-1211 and sales@crownpointcatering.com. We look forward to serving you!.